Penelope The Truck!
3rd November 2020
Our Warrington Branch  have had the pleasure of working with Craig & Penelope the Truck this past week. Our team at Warrington have received  fantastic feedback from Craig,
"Just wanted to say a huge thanks to Mend-A-Hose team for all your help over the past weeks, sorting out lines and connectors for our truck. I'd especially like to thank Gordon for his friendliness and great customer service"
"We Tried the rest (got seriously messed around) but ended up with the best!"
"We will defiantly be recommending you to friends ect" 
Many thanks
Craig 
You can find Kerry, Craig & Penelope The Truck's story by visiting https://penelopethetruck.com/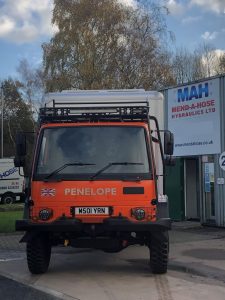 Penelope the Truck.
"We are Kerry & Craig, husband and wife team from the UK. Restless souls and keen adventurers we love nothing more than an expedition into the unknown.
And so, we invested in Penelope the Truck, an ex-army DAFT244 which we will be turning into our full time home on wheels, so we can take her wherever our heart desires to be in the world!
We hope to share our journey in a fun but authentic and honest way and hopefully inspire more people to take bold steps to a new way of life!"
https://penelopethetruck.com/173-2/
Our Warrington Branch is open Mon-Fri 8am to 5.30pm & Saturday 8am to 12noon.