Spillpod
Spillpod is a neat, self-contained unit that centralises wiping, cleaning and absorbent needs within a workshop environment.
Wall Mounting Points, fitting instructions included.
Tough steel construction.
Multi-use paper roll
Disposable gloves
Floor Degreaser
Absorbent pads
Quick rip absorbent roll
Spillpod pads are 8 tines more absorbent than inefficient rags.
TRIO –  General Purpose (as pictured)  £206+vat 
Oil & Fuel, Chemical also available.
Refill packs available.
Order from our sales team quoting "Web Offer" and get 20% discount off this price! Offer ends August 31st 2020.
sales@mendahose.co.uk  or contact us on 01977 603995 Option 2
Available for next day delivery, carriage charge would apply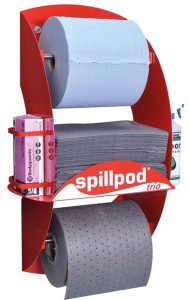 ££206 Ex. Vat
Order Now:
0800 633 5233
sales@mendahose.co.uk